Parent and Carer Learning
Parent and Carer Learning. To help you support your child with their school education. We also have lots of information to support you as a parent signposting you to lots of external agencies who are offering help. Scroll down and see what there is for you.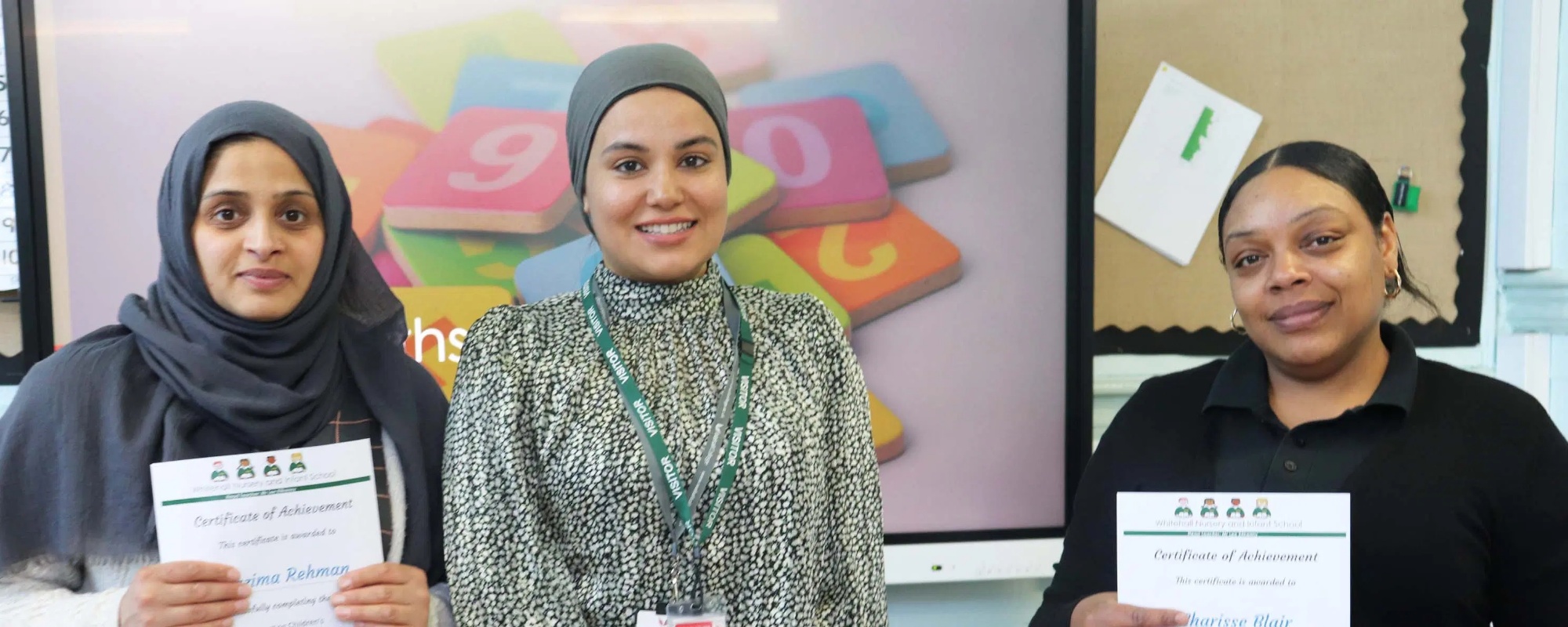 On this page we will direct you to anything that we find that we think will help you in helping your child. Wether it is about up-skilling you so that you can support your children with their homework, or taking on a hobby or learning skills to build up your own confidence. It might just be opportunities to be able to talk and chat about parenting and children's learning in a safe and supportive environment, with others who are in a similar situation as yourself. If you have any questions about anything shared here please talk to Mrs Ware on the gate or make an appointment to see her.
FREE COURSES
Walsall College has a number of short courses available to help jobseekers back into work that take place from April!
Their Employment Gateway courses are open to *anyone aged 19+ who are currently unemployed with many offering a guaranteed job interview or work experience opportunities.
They have courses available in a number of areas to help people into work, including working with the NHS and in the care sector.
The aim of these free courses is to provide individuals with all the support and knowledge they need to work in specific areas, including help with the development of their CV and interview skills to give them the best opportunity to get back into work.
These courses will run providing there are enough people registered.
Take a look below at what courses we have coming up at either our Hawbush Campus in Leamore or our Construction College in Kings Norton, Birmingham:
Blue indicates that this course has a guaranteed job interview attached to it
JUNE
Course Title

Venue

Start Date & Times

Duration

Entry Requirement

Welding & Fabrication – with JC Payne & GJF Fabrication

Hawbush Campus, Leamore

TBC

3 Weeks – Monday to Friday

Entry 3 English

Pre-Apprenticeship in Business Administration

Hawbush Campus, Leamore

5th June

9.30am – 3.30pm

(Information Day – 22nd May)

20 Days, Monday to Friday

TBC

Introduction to Care Work

Hawbush Campus, Leamore

7th June

9.30am – 3pm

(Information Day – 5th June)

3 Weeks – Monday to Friday

Entry 3 English

Subject to enhanced DBS Check

NHS Clinical Support Worker

Hawbush Campus, Leamore

12th June

9.30am – 3pm

(Information Day – 7th June)

3 Weeks – Monday to Friday

Level 1 Maths

Level 1 English

CSCS Green Card including Health & Safety

Hawbush Campus, Leamore

12th June

9.30am – 4pm

(Information Day – 7th June)

10 Days, plus CSCS Assessment

Entry 3 English

Construction Gateway Construction Skills – Ground Works

Construction College, Kings Norton, Birmingham

12th June

9.30am – 4pm

4 Weeks, including work experience

TBC

Warehousing & Forklift Truck Licence

Hawbush Campus, Leamore

19th June

9.30am – 4pm

(Information Day – 14th June)

3 Weeks (12 days Warehousing) + 3 days of FLT

FLT Training will be in Willenhall

Minimum Level 1 English
If you would like to register your details for any of these courses mentioned above, or would like more information, please email williamsm@walsallcollege.ac.uk or contact either 01922 651142 or 07920 084770.
*subject to entry requirement
Walsall College has a six-week Digital Bootcamp course available for *anyone aged 19+ looking to improve their knowledge of Digital Marketing!
This course, which can be delivered online or at our Wisemore Campus, begins on 6th June and finishes on 11th July.
During these six weeks, you will be able to boost your website and digital marketing know-how with this all-in-one training course! Whether you're a beginner or have some digital marketing experience, we'll show you how to build up valuable skills!
Some of the areas we'll be focusing on include:
How to create and manage a website
How to use digital marketing techniques such as search engine optimisation (SEO), pay-per-click (PPC) and website analytics
How to carry out social media optimisation (SMO)
Gaining an understanding of cyber crime and security awareness
The six week Digital Bootcamp will break down as:
Week 1 – Creating a Website (parts 1,2,3)

Week 2 – Introduction to Digital Marketing (Parts 1, 2 & 3)

Week 3 – Planning and Content Marketing

Week 4 – Search Engine Optimisation, Pay Per Click and Digital Advertising

Week 5 – Introduction to Social Media Marketing, Email Marketing & CRMs and Web Analytics and Measurement of ROI

Week 6 - Cyber Crime and Security Awareness
Classes will take place on Tuesdays 9.00am - 4.00pm, Wednesdays 9.00am - 12.00pm and one hours' homework to complete - 10 hours each week over 6 weeks.
*This training is for adults who are either in work, self-employed, unemployed or returning to work after a break. You must be aged 19 or over as of July 31st 2022. You must also have the right to work in the UK. You must live within the West Midlands.
If there's anyone you know who would be interested in this Digital Bootcamp please send their details over to ashraft@walsallcollege.ac.uk or by contacting 01922 651123 or 07917 882020.
Thanks,
Tusief Ashraf
Community Development Officer.