Our Learning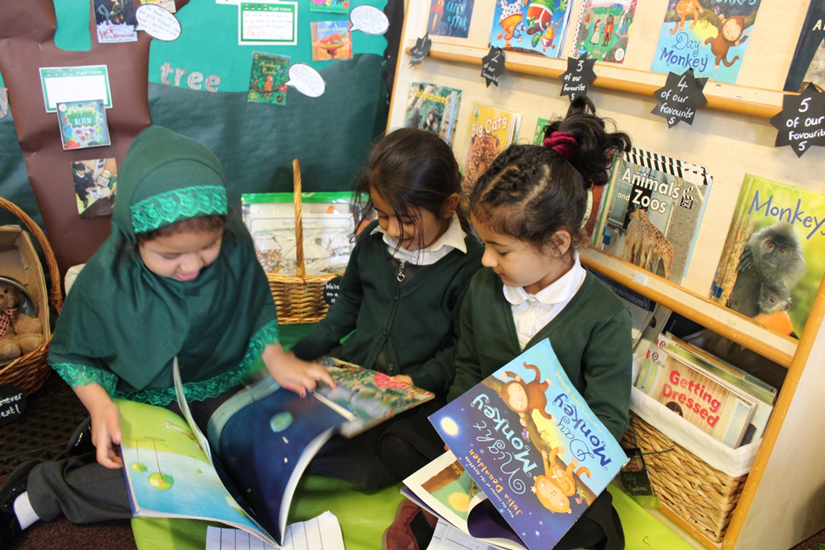 Books, books, books! We love books and we love learning - so we use the best new, old, diverse, fairy stories and humour books to hook our children into learning.
Each year group uses 5 books, which each class has, and we call them our 'favourite five'. We choose them according to the theme we would like to engage the children with that half-term. They have been chosen because they are great books for developing further learning, books that pose questions, that make you think, that confuse you and that get an emotional response, wether laughter, sadness or anger. The five books have also been chosen with our knowledge of the National Curriculum in Years 1 and 2 and the EYFS framework in Nursery and Reception. We also use the resources of an online curriculum called Cornerstones, dipping in and out when we like their ideas for teaching and learning.
With these three key elements we then create a fantastic 'creative curriculum' that takes most of the foundation subjects and Science and delivers them as separate subjects linked together through exciting themes and projects.
Take a look at each individual curriculum subject to see how we deliver it across the school and the progression of skills and knowledge from Nursery through to Year 2. These progression documents show what children need to learn (know) in each year group and then remember (retain) in order to help them develop their learning in the next year group.
Having our own Nursery means we can start our knowledge based curriculum, looking at what they need to know and remember, right from the start and develop it progressively through to Year 2. We are also working through our Governing Body meetings to liaise regularly with Whitehall Junior School to ensure that what our children are learning in Year 2 is going to support them in Year 3 and beyond.
Any questions about our curriculum come and ask me, Mr Palmer - Curriculum Lead