Engaging the children during holidays
Click on the link below to see what Walsall Council have arranged for children to do over the holidays. There is also a football club they can go to for just £5 a session. Check out the fliers below.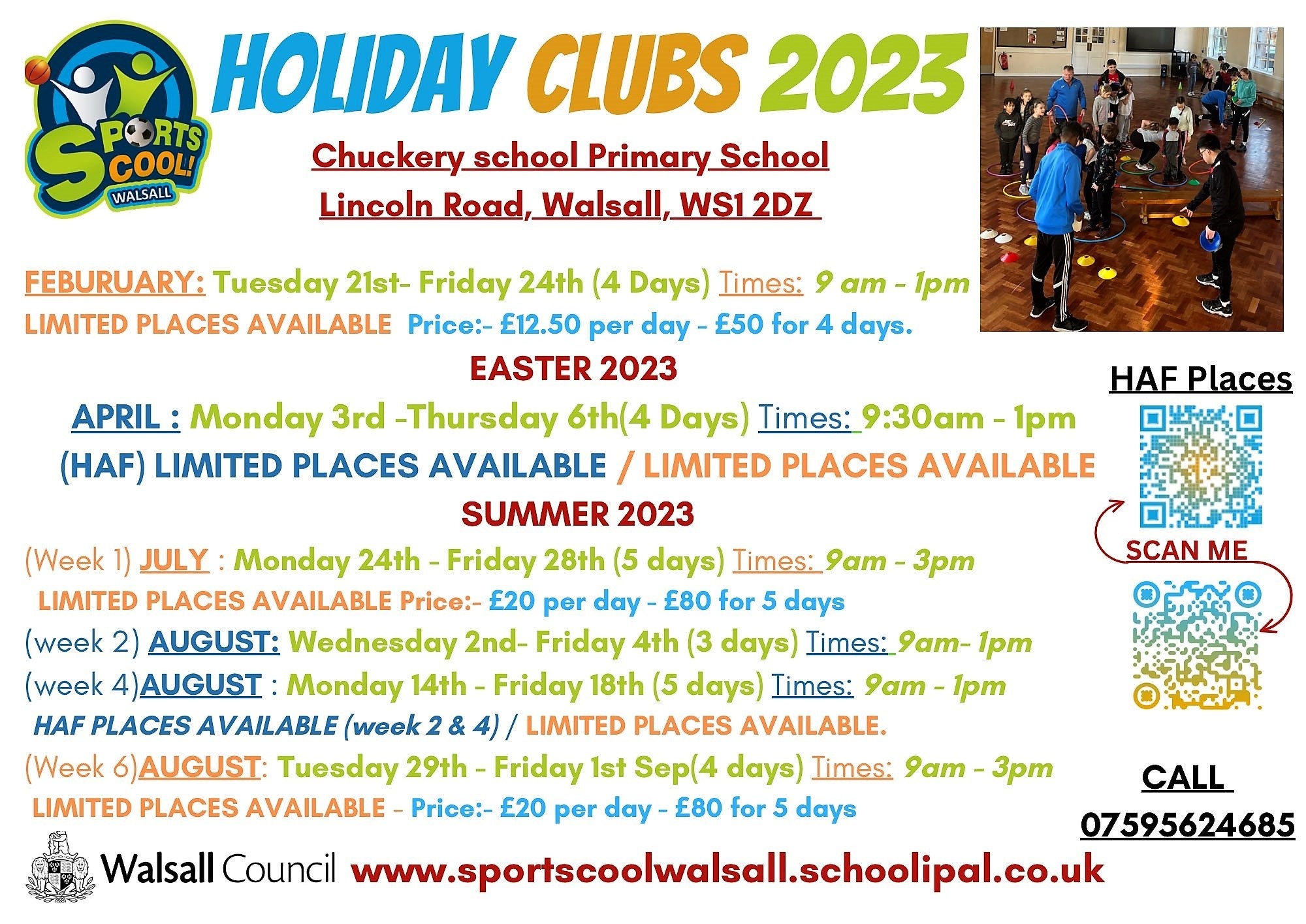 ---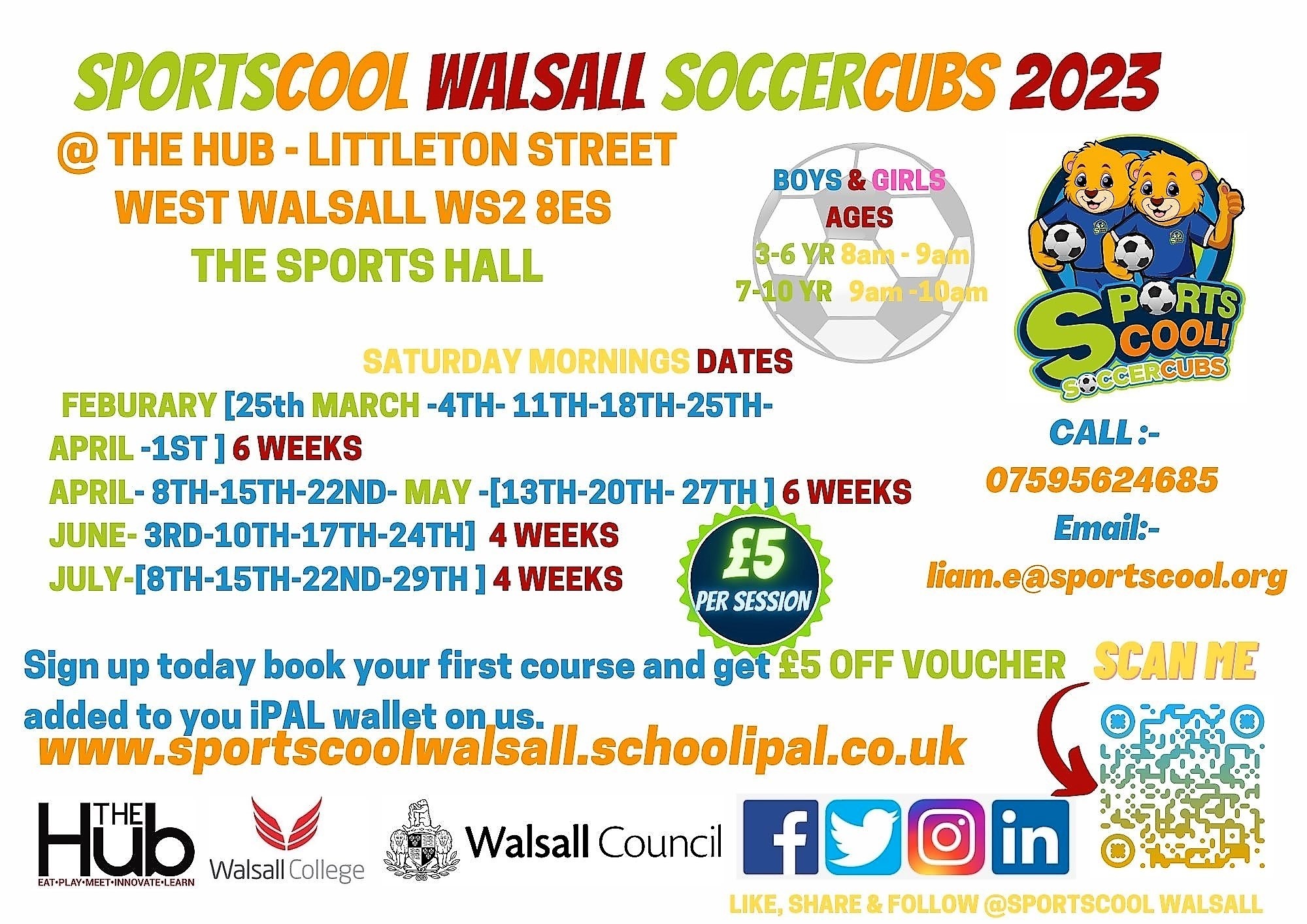 Cheap ways to have FUN
The National Trust has a fun list of "50 things to do before you're 11¾". Also see this PDF: "50 no prep ideas for sensory play activities". For more ideas, follow the links below.
Here are some ideas of things to do at home during holidays or over weekends. (For more ideas, check out kidspot's things to do.)
Read together:
Children love to listen to stories and talk about them. It is important to read to children every day. Your local library is a good source for books.
Older children can read to younger children.
After you read a story, talk about it with the children. Have the children talk about the sequence of the story. Ask questions about the story. Ask them what they would do if they were in the story.
Make up the ending to a story:
Read part of a story and ask the children to make up their own ending. They may want to develop new characters and places and even combine another story they know.
Build a story:
Begin a story and let each child add to the story. Watch how ideas, characters, and places change. This helps children develop creativity, improves their ability to use oral language, and learn to cooperate with others.
Draw a Story:
Give each child paper, crayons, paints, washable markers, or pencils. Let the children draw some of the scenes and characters they liked in the story. Ask children to talk about their drawings.
Visit the library together:
'If possible, take the children to visit the library. They can choose books to read. The children's librarian can help find books that are right for their age. Some children will be able to choose their own books. Give the children a chance to look at books, turn pages, and look at the pictures.'<1>
Make a string telephone click for more info
Have a jumping competition:
Have the children stand with their toes at a starting line, which can be made using a strip of masking tape on the floor. When you give a signal, have the children jump forward five times. The distance each child jumped can be measured with chalk or string. Let the children jump again to see if they can improve their distance.
Make an obstacle course:
An obstacle course can be set up either in or out of doors. Chairs, old tires, stools, and cardboard boxes are just a few things that can be used.'
Count the dishes!
'Have the children help set the table for meals or snack and ask them to count how many napkins, forks, dishes, and spoons will be needed.'<1>
Make a musical instrument click for more info
Make a bird feeder click for more info
Make a puppet (sock puppet; stick puppet) click for more info
Make a "feel box": Find an old shoe box. Cut a hole in the lid. You can ask the children to decorate the box. Put some things in the box. Let each child put one hand in the hole and try to guess what is in the box by feeling the objects.
Experiment with water: Fill three jars with water and mark the level on each jar. Place one jar in the freezer and one in a window. Put a lid on the third jar and put it beside the jar in the window. Have the children check the jars frequently. Talk about expansion of water, evaporation and air.'<1>
Make a pasta necklace click for more info
Start a collection: Young children like to collect things like rocks, shells, or coins. You can help children organize the collection by labeling the objects as to where they were found or who gave them to the child.
Make a themed collage: 'What you need:
• old magazines
• safety scissors
• glue
• paper
What you do: Have the children decide the theme of the collage. Write the theme at the top of the paper. They can look through magazines and cut out pictures that follow the theme. Some ideas for themes are dogs, cats, or plants.
Press some flowers click for more info
Dress up: Old hats, shirts, shoes, ribbons, junk jewelry, and other old clothing will occupy a child for hours. Let each child pick out his own costume.
Experiment with rough and smooth: Young children enjoy seeing things change. Let children see the difference between rough and smooth by using a piece of wood. Let them feel the rough wood, and then, with sandpaper, smooth the wood down.
Make smoothies: A cheap and easy favourite is simply to blend together bananas, milk and a spoonful of honey to create a delicious and nutritious drink. Experiment with different fruits to see what works best.
Make a dot-to-dot picture click for more info
Do some cooking together click for more info
Do some cleaning together: Young children enjoy helping you clean around the house. Cleaning windows is a favourite. Give each child his own cloth. Let the children use the cloth while you use the cleaners. Let him clean until finished. Don't expect a young child to last too long. Discuss safety rules with the children.
Play with cardboard boxes click for more info
We don't recommend all of the activities seen on the video linked to above but, hopefully, the point is clear: cardboard boxes can be loads of fun! You can also collect smaller packaging (cereal boxes, juice cartons, egg boxes, toilet roll tubes, etc.) and use them to build anything (castles, rockets, kitchens, anything). Our children will be used to this because of our Playpod (see a video here of a Playpod in action).
Learn and sing some songs (for more songs, see our Sing up! page)
Act out a story: Read or tell the children the story of "The Little Red Hen" [you can also watch a couple of classic cartoons telling the story: Comicolor and Disney]. Then with your help let them tell the story by filling in easy parts that you leave out. Eventually, they should be able to act out the story.'<1> Try different stories, like Why Anansi has thin legs, The princess and the dragon, Jack and the beanstalk, The lion and the mouse, Goldilocks and the three bears, Little Red Riding Hood.
Draw things: Most kids love to draw. Let their imaginations go wild with paper and a pencil (add some colouring pencils, wax crayons, or pens, if you have them to hand).
Have drawing lessons: Follow the step-by-step instructions in the "How to draw" videos on the Art for Kids Hub website.
Go for a walk: Plan a nature walk. Have the children talk about what they might see. Give each child a bag and have them collect interesting items, such as small rocks, leaves, pine cones, or sticks. When they return home, have them talk about what they collected.
Make pictures out of twigs, leaves and rocks, etc.: Use art by Andy Goldsworth as inspiration and make some pictures out of the things you collected on your nature walk (like this one).
Have a water fight (in the summer!)
Make a den:Follow the instructions here or here (using blankets or sheets), or come up with your own ideas (here are some pictures to help inspire you).
---
Notes
1. 101 Ways to Keep Kids Busy